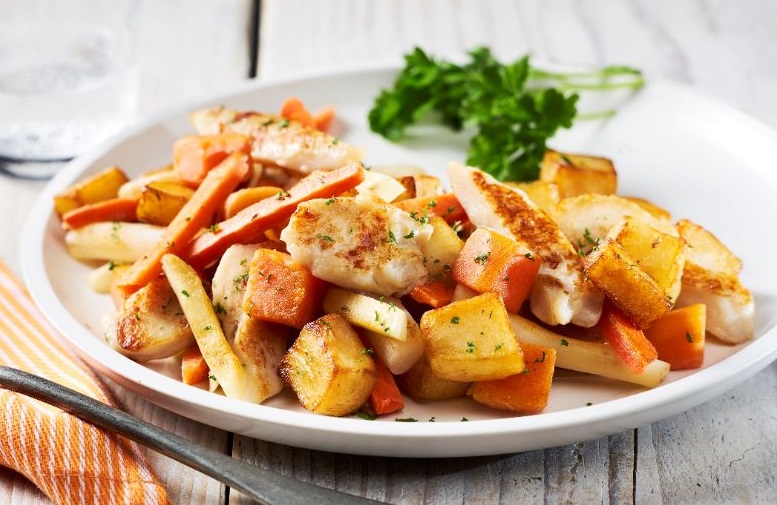 Potatis MIX chicken
Skogsgreven has selected the best ingredients to create this new concept. Potatis MIX exceeds all existing potato dishes because it replaces the potato component and the meat component. With Potatis MIX as a basis for your meal, you only need to add vegetables. This could be "leftover" vegetables from the refrigerator, a can of vegetable from the cupboard, a fresh salad or of course frozen vegetables. With Potatis MIX in your freezer, you can prepare a tasty meal in a couple of minutes.
Potatis MIX chicken is a healthy, low fat product which contains 18% roasted chicken fillet and 40% root vegetables.
Ingredient declaration:
Root vegetables 41% (carrot, parsnips, sweet potato, salsify), pre-fried potato 40% (potato, sunflower oil, dextrose), roasted chicken fillet 18% [chicken fillet (97% meat content), tapioca starch, salt, maltodextrin, dextrose) salt, spices (parsley, paprika, onion, garlic, tomato, coriander, pepper, nutmeg, ginger, cumin, allspice).
Nutritional values per 100 g:
Energy 455 kJ / 108 kcal
Fat 2,5 g
of which saturated fat 0,4 g
Carbohydrates 15 g
of which sugars 3 g
Fibre 2,1 g
Protein 5,8 g
Salt 0,7 g
Frying pan or wok (preferred method): Add some oil or butter in a frying pan or wok. Heat the frozen product on medium heat for ca. 8-10 minutes. Stir occasionally during heating.
Oven: Pre-heat the oven to 200°C. Heat the frozen product in the middle of the oven for ca. 20-25 minutes. Stir halfway.
Microwave: Place the product in a microwave safe form with lock. Heat on high effect (900W): 1 portion ca. 5 minutes. Stir halfway.
Tip: Add a vegetable to prepare a complete meal. Spice up after own desire.